Campground Description
We are a family oriented environment, with several "park-like" settings for children to play. We have a shower house and laundry facility, outdoor movie theater, 9 hole mini-golf, beach volleyball court, horseshoe pits, dumping station, on-site food trailer (Evergreen Eatery) and within walking distance of Pigeon Lake & the public boat launch.
Local Attractions
Hilah Ayers Wilderness RV Park has 12 golf courses within a half an hour drive. A short walk to Pigeon Lake and Mulhurst Bay, where you will also find a restaurant, grocery store and golf course. On the other side of the lake is The Village at Pigeon Lake, a quick drive for more restaurants, shops and fun for the whole family. The activities and things to do around the lake are endless, we look forward to seeing you soon!
Location
Campground Amenities
Common Fire pit area

Firepit (Campsites)

Firewood (Charge)

Flush Toilets

Gazebo

Group Camping

Handicap Accessible

Parking Lot

Pet Friendly

Picnic Shelter

Picnic Tables

Sani Station

Seasonal Sites

Showers

Tap Water

Water Pump
Campground Services
Convenience Store

Internet access (WiFi)

Laundromat

Restaurant
Campsite Types
15 Amp Hookup

20 Amp Hookup

30 Amp Hookup

Powered RV sites

RV (<20 feet)

RV (<30 feet)

RV (<40 feet)

RV (<50 feet)

RV (<60 feet)

Tent

Water Hookup
Leisure
Beach Volleyball

Hiking

Horseshoe Pits

Playground
To zoom, hover over chart and use the mouse scroll.
No information available at this time.
You must be logged in to write a review.
Login
Great Campsite
Jul 19, 2020
by
Perry Fox
Excellent campground and professional employees. Treated my family very well. Only criticism is they implemented a pay for sewer dump in the middle of our stay which not part of original deal. Other than that, Ryan and Cindy were very good to work with. Family will be back for sure!
Very Professional
Jul 5, 2020
by
jose soriano
Very accommodating and very hospitable staff, The Guy and Cindy were very helpfull all through out the time we were there. Highly Recommended! Lot's of activities to be done and the campsite is very good for the kids. Highly recommended!
Park Policies:
These policies will ensure a more pleasant stay for everyone
Quiet time must be respected between 11 p.m. until 7 a.m.
It is the responsibility of all campers to clean up garbage and cigarette butts on their site. Trash containers are provided near the Park Office. All trash must be wrapped and placed in these containers. Failure to clean up your site will result in a cleanup fee in equivalence to one night's stay charged to the credit card used to book the reservation.
Pets are permitted but certain conditions apply:

Pets must be under control and on a leash at all times,
Pet waste must be picked up immediately and deposited into a garbage bin, there are multiple pet waste/garbage bins located throughout the park,
If pet waste is left on your site, a clean-up fee may be charged to the Credit Card on file.

Motorcycles, mini-bikes, all-terrain vehicles, quads, and similar vehicles shall not be operated within the Park.
Fireworks are not permitted.
There will be a $10 per use of the dumping station. Payable at the Park Office.
ZERO TOLERANCE FOR SPEEDING. The speed limit within the Park is 10 km/hour and pedestrians always have the right away.
The community fire pit (located between overnight sites 13 & 14) is available for anyone to use – please be considerate and leave this area tidy for the next group to use.
Fires spread rapidly, DO NOT LEAVE FIRES UNATTENDED – EVER.

Always extinguish your fire with water when finished. DO NOT LEAVE A FIRE TO BURN OUT ON ITS OWN.
Campers will follow any fire bans when they are in effect. Failure to abide by this rule will result in expulsion from the Campground.
COVID -19 Restrictions
Guests must observe all Federal, Provincial, Municipal, and other authority directives, laws, rules, and regulations pertaining to the COVID-19 pandemic.
Terms and Conditions
Payment is due upon receipt.
Please use the north entrance for registration purposes and contact the office to make arrangements if a later check-in time is needed.
Check-in times are as follows:

Sunday - Thursday: 2 pm - 5 pm
Friday - Saturday: 2 pm - 7 pm

Check-out is at 11 am
Compliance checks will be conducted at random, so please have your confirmation readily available.
All cancellations are subject to a $5 service fee, plus GST.
Accommodation costs and applicable taxes are fully refundable outside 7 days, partially refundable within 3 - 7 days (50%), and non-refundable within 72 hours of arrival.
Discounts will not be offered for late arrivals or early departures, and refunds will not be issued for inclement weather or no-shows under any circumstances.
NOTE: Each site is limited to one RV unit and one tent.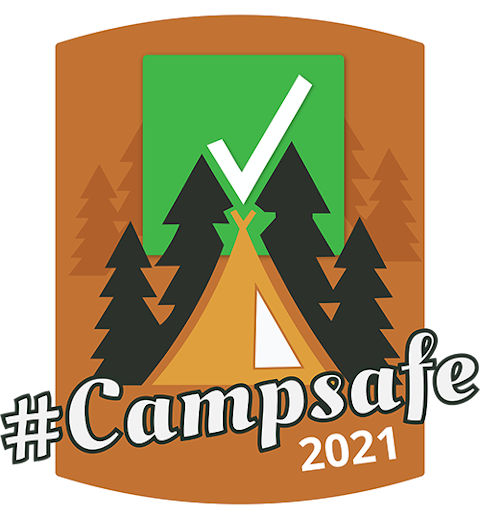 Book Campsite
Contact